Delivering a phenomenal presentation where our message truly resonates with everyone in the audience really does require us to include each of these dimensions.
Whether it's a report for the monthly budget meeting, a sales pitch to prospective clients, or proposed bylaws changes to the neighborhood HOA, the task of sharing a message in front of an audience can be exhilarating for some and intimidating for others. Thankfully, there are reliable steps you can take to increase the likelihood your message will be well received by any audience.
1. Show Enthusiasm for Your Topic
Begin your presentation with positive energy. Enthusiasm is contagious. It will not only show commitment to your concepts; it will help build others' commitment to them as well. Your mission in presenting should be to inspire eagerness and action. Make sure you're delivering your message with genuine excitement and a focus on demonstrating your goals and what achieving them will look like.
2. Express Confidence
Present your content with honesty and authenticity. Speaking candidly will elicit attention and respect from your audience as well as add value to the message. If you offer as much transparency as possible to potential challenges and uncertainties that may exist around a project or idea, your audience will be far more likely to trust your message and be more confident in your cause.
3. Take Time to Prepare
You don't want to regurgitate a memorized speech, but you should also never just "wing it." Planning ahead will allow you to think through topics, prioritize what's most important, and tailor your delivery for your audience. Advanced planning gives you time to fine tune some of the logistical details. Don't underestimate the influence that the physical space, set up, and environment will have on how your presentation is ultimately received. Ultimately, preparation invested upfront allows for more freedom and flexibility in the moment.
4. Slow Down
Demonstrate to your audience that you're confident, at ease, and happy to be there talking with them. Make them feel comfortable by delivering your message with a positive, even pace that includes accessible stories and examples. And if you need to deliver some potentially undesirable news, conveying information in a calm way without judgment or panic allows participants to leave with a feeling of connected engagement with you and your subject matter.
5. Consider Others
Consider everyone in your audience when creating your presentation; have the goal to make a positive impact on everyone listening. Match the needs, interests, situations, and culture of your audience while working to explain how your ideas or projects will be shared and experienced between all stakeholders. Engaging your audience with questions and through discussions will help them to feel they are co-creators in the process and increase the likelihood they will take action when the presentation ends.
6. Don't Forget to Have Fun
People learn and retain more when they're enjoying themselves. Present your ideas with a variety of methods, including anecdotes, stories, activities, and lively discussions. Allow opportunities for your audience to think creatively and encourage unstructured interchanges to help build ideas. Making space for fun, productive discourse can expand the dimensions of your work and leave a strong lasting impression.
We tend to excel in one or two aspects of presenting while others we might not even think to consider. Delivering a phenomenal presentation where our message truly resonates with everyone in the audience really does require us to include each of these dimensions. Understanding your strengths in presenting and shining a light on the areas where you could improve will help you connect with your audience and build your ability to positively influence others..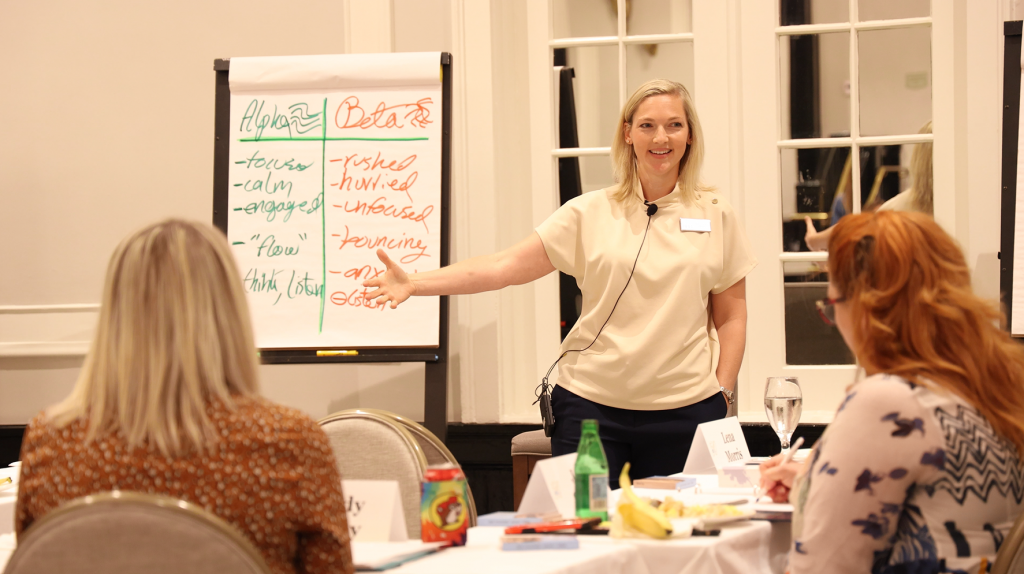 Presenting to a group can be a challenge for even the most seasoned leader. Knowing yourself and developing essential communication skills can ease the tension that comes from being put in front of a crowd. If you're looking for ways to enhance presentations and other leadership abilities, for members of your team or for yourself, Bell Leadership offers training programs in advanced communication techniques and personal development.