"If I had to say my biggest takeaway, biggest learning from Roundtable, it was the value of collaboration with other leaders."
Leader's Roundtable alum, John Haller, shares how his program experience and learning has transformed his own leadership style.
Q1. What would you say is your biggest takeaway from your Leader's Roundtable experience?
A. I had a great experience that continued well beyond the Roundtable with the annual alumni gatherings to enable continued education, growth, and development. If I had to say my biggest takeaway, biggest learning from the Roundtable, it was the value of collaboration with other leaders. It's extremely powerful when you go through The Leader's Roundtable together with a small group of other senior leaders; you're solving real challenges that you have as a business leader, you're getting input from peers, and you're all speaking the same dialogue with the same vocabulary that you're learning from Bell Leadership. I always got to a better solution that enabled better business results thanks to the collaborative input from these colleagues who were from different geographies and industries. The common calling of leadership enabled us to help each other in every situation.
Q2. We've known you now for almost 25 years! How would you describe your leadership style and the evolution of it?
A. My leadership style has changed a lot. I began my business career coming out of the military with a "get behind me, follow me, we're going to take this objective together" style, and while this worked with supervisory and management level responsibilities, it was not a leadership style that was scalable and transferable. It would not have worked in many cultures, and it would not have worked with broader responsibilities. At Bell Leadership I developed a much heightened sense of self awareness and was given tools to improve my communication skills and ability to collaborate. I learned the value of being comfortable caring for your people and taking care of them and that doing so wasn't softness or indecisiveness. My leadership style certainly became much more collaborative and much more communicative, and that was absolutely critical because I went from running one business in the US to running a global business with many sites and thousands of people that spanned the Americas, Europe and Asia. I think the ability to communicate and lead differently allowed me to identify and appreciate the best things in each culture, geography, and business that I worked with globally. I have since developed a passion for building a global team comprised of the best attributes that each member brings to create a far more powerful enterprise than any of them could be on their own. The work that was done at Bell Leadership and the feedback I received during the Roundtable were both a catalyst and an enabler of this leadership passion.
Q3. Can you speak a bit about the business results you've experienced or your most profound success?
A. Thanks to the Roundtable, over the past two and a half decades, they've been very good. When you look at revenue growth, profitability, and cash flow, arguably three of the most important measures for any business, we have delivered strong results year after year. For me personally, more important than any of these numbers and metrics is the group of people I had the privilege of working with that together became a global team. Watching them develop a respect and appreciation for one another and then seeing them find a way to do greater things together was the most satisfying success I have experienced professionally. It is often hard to measure and quantify, but a global team that leverages the best of each culture, geography, and business to create a more powerful enterprise is a competitive advantage in any industry. The skills I learned at Bell Leadership and the feedback received from colleagues at the various programs and the Roundtable, were key enablers for my professional development and success at executive levels of leadership.
Q4. Thank you for sharing your experiences with us, John. Before signing off, is there anything else you'd want a future Leader of the Roundtable to know?
A. In summary, I'm a huge fan of the Roundtable – a huge fan of Bell Leadership. It's helped me not only to be a better business leader but to be better at every role I play in life: husband, father, family member, coach, board member, and citizen of various communities. I have opportunities every day to apply the things I learned at Bell Leadership to lead a better and more fulfilling life, and I try to make the most of each of these opportunities. I may never find the exact right words to convey the gratitude and appreciation I have for Dr. Bell and the entire Bell Leadership team for the partnership they have shown to me for the last 25 years, to help me develop as a human being and as a leader.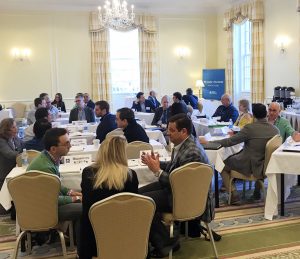 The Leader's Roundtable brings together high-level leaders from various organizations and industries for six, two-day meetings over the course of a year to learn together, share challenges and discuss best practices. The meetings focus on the most important responsibilities of a leader and help members share ideas, questions and perspectives in a confidential setting with peers who understand the weight of their daily responsibilities. The Leader's Roundtable builds your personal effectiveness AND your company's bottom line. Click here to learn more about this exclusive program.