Executive Retreats recharge your top leadership and kickstart new plans with the power to achieve and even surpass your goals. 
Executive Retreats recharge your top leadership and kickstart new plans with the power to achieve and even surpass your goals.
Need to refocus and reenergize your executive team? In this post-COVID world, many organizations are finding that bringing their leadership team together for an off-site can solidify connections and inspire collaborative thinking, problem solving, and innovation. Whether your goal is to improve communication, solve a specific challenge, or build stronger working relationships, use these 5 steps to ensure you get the most out of your event.
1. Assess your team's current dynamics.
Before you can plan a successful event, it is critical to assess how your leadership team currently relates to one another. Does communication flow easily?  Is trust well established?  Are there specific challenges standing in the way of better collaboration?  You need to understand how your team members will be arriving at the start of the retreat—intellectually and emotionally—and where you want them to be by the time it ends.
2. Be clear on your retreat objective.
Once you understand the working dynamics and needs of your team, you can be strategic about how to focus your event. You can derive maximum value from your retreat if you develop an overarching narrative that addresses a critical business need in addition to emphasizing relationship building.  The objective should be tangible enough to have real impact, but manageable enough in scope that your team can confidently make progress during the event.
3. Include a skill building component.
The best retreats go beyond addressing an immediate goal and integrate valuable skill building.  Working to build those leadership skills most needed to meet current and future challenges will multiply the impact of your retreat. Be it deeper listening skills, an ability to give critical feedback, or recognition of top talent in an interview, leaders will appreciate building their leadership capabilities while also working toward company goals.
4. Don't forget to have fun.
Your retreat does not need to be all lectures and PowerPoint presentations. These days, successful retreats include a mix of learning, fun, problem solving, and real human connection. Fun breaks down barriers; enjoyable, unique experiences can be the reason a new skill building exercise sticks with you, and memorable moments are the glue that builds relationships.
5. Communicate your outcomes.
Gone are the days when leaders felt the need to be hushed about their executive team's retreat. Aligning leadership on mission, vision, and goals is critical to the organization's success, and sometimes it's necessary to step away from the day-to-day to get clear on those things. Once you do have greater clarity, it's important to report back on what you learned, what was accomplished, and any new directives or plans that may affect your teams' focus. Making everyone aware of the outcomes can justify the value of retreats, inspire commitment throughout your organization, and create accountability for your leadership team.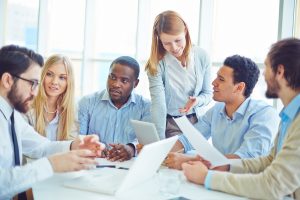 Retreats can recharge your top leadership and kickstart new plans with the power to achieve and even surpass your goals. If you're considering an executive retreat, Bell Leadership Institute's experienced trainers and facilitators will work closely with you to create a unique learning experience that prioritizes the challenges and opportunities of your organization, so you can maximize your time together and produce the most effective results. Our retreat offerings range from providing one learning component as part of a larger event to turn-key services where we can help you design, plan, and provide concierge event execution.